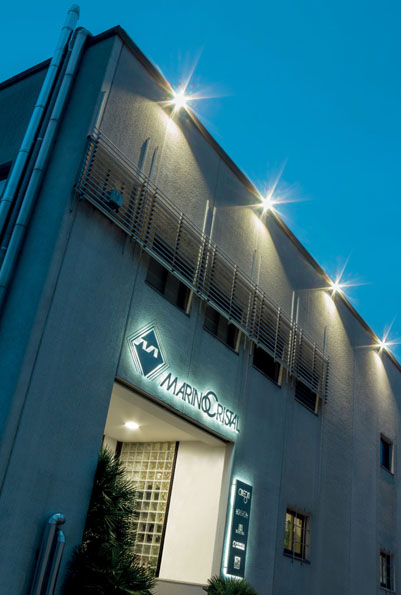 MARINO CRISTAL S.p.A is today a leading company in the bulbs and lighting fittings business.

The company was set up in 1983 in the Republic of San Marino as the exclusive Italian distributor of traditional Bohemian crystal chandeliers and of all lighting components manufactured in the Bohemian area.

Thanks to a later entrepreneurial intuition, the company perceived the need to diversify its activities and it set up separate commercial divisions each one having its own registered brand.

MARINO CRISTAL's bulbs & accessories: it represents one of the widest and most comprehensive offers currently on the market, with a very complete range of LED, fluorescent and halogen bulbs. The constant pursuit of technological development guarantees up to date and advanced products.

HOMEGA: it's an articulate assortment of indoor and outdoor lighting fittings both for architectural and commercial application. The proposed solutions are aimed at satisfying multiple requirements, ranging from a simple decorative effect to a more innovative lighting design. In addition to that, a supportive technical office can evaluate the best lighting solutions for any customer's lighting requirement.

MC LUCE: it proposes several solutions in terms of decorative lighting; it's characterized by contemporary and cutting edge design.

Marino Cristal has always been particularly careful to adopt eco-sustainable lighting sources able to combine high luminous output, energy saving and low environmental impact. All offered solutions are therefore technologically advanced, safe and environmentally friendly.

In order to support this philosophy, the company constantly invests in research and development. The company particularly focuses on the compliance of all products with the European Directives in order to be able to ensure excellence in terms of safety and reliability.

Marino Cristal, total quality-oriented, offers an efficient logistics platform, an accurate after-sales assistance, an effective technical consulting team and high quality human resources.